Market Review 22/10/2021
EUR/USD
EUR/USD has been trading within the range of 1.1540 and 1.1685 over the past few weeks currently meeting matching the price of its 200-period Moving Average. Traders will likely be monitoring today's PMI (Purchasing Managers' Index by Markit Economics) data releases on the Eurozone, as these have been declining after the 15-year peak from July.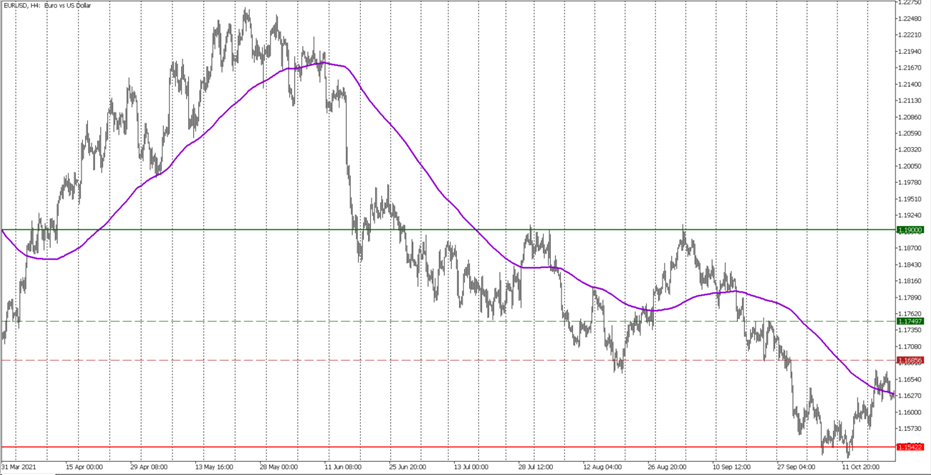 Currency Heatmap
The Currency Heatmap shows how the Australian Dollar seems to have gained momentum positioning as the relatively strongest currency across the panel agains its major peers followed by the New Zealand Dollar, which has been taking that tittle over the last week. The US Dollar falls on the other side of the spectrum as the worst performer.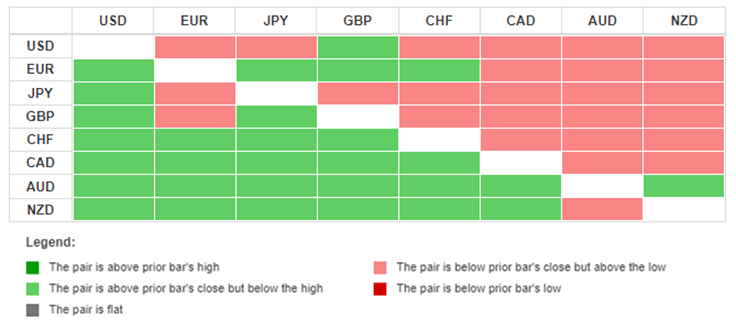 Gold
Gold seems to have gained momentum during this week after last Friday's selloff. Price has been rising helped by a weaker US Dollar making the precious metal to trade avobe its 200-period Moving Average, currently up 1.50% for the week while this Market Review is being written. If this uptrend keeps strenghtening, we could see a test against the key level of USD/oz 1,800.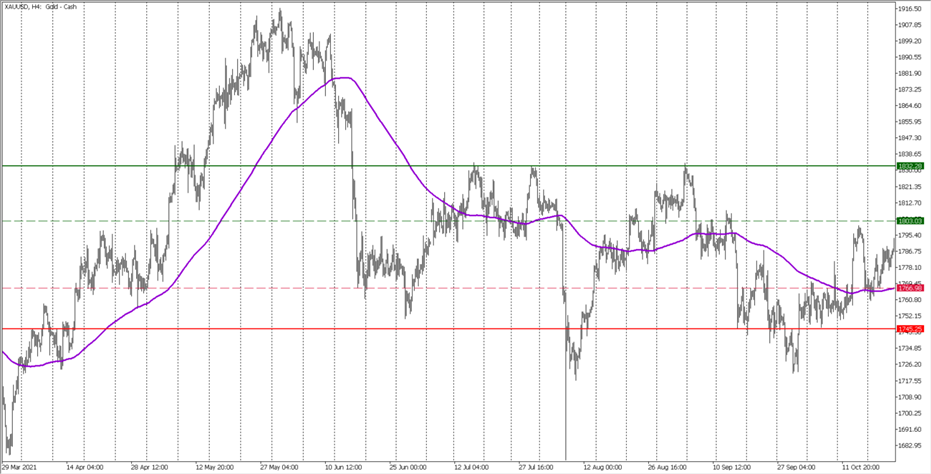 *Source Investing.com Calculator
Volatility has reduced significantly over the past week after peaking above 2,424 points a week ago. Its current levels (around 2,174 points) makes a reduction of approximately -10.31% in relation to last week's maximum level.
Stocks to Watch
Earnings: Below are the stocks to monitor for the rest of the week will announce their earnings.
Friday, October 22, 2021
Country
Stock
EPS Forecast
Revenue Forecast
Market Cap.
Time
US
Honeywell
  1.99
  8.65B
153.12B
Before Market Open
US
American Express
  1.77
  10.54B
140.86B
Before Market Open
US
HCA
  3.96
  14.52B
79.61B
Before Market Open
US
Roper Technologies
  3.83
  1.61B
49.98B
Before Market Open
US
Schlumberger
  0.3563
  5.94B
48.3B
Before Market Open
US
VF
  1.15
  3.5B
28.86B
Before Market Open
US
Ventas
  0.0488
  914.66M
21.99B
--
US
Regions Financial
  0.5259
  1.56B
21.54B
Before Market Open
US
Royal Caribbean Cruises
  -4.13
  612.15M
21.51B
--
US
Seagate
  2.21
  3.11B
18.33B
Before Market Open
US
InterContinental ADR
  0.2033
  --
12.61B
Before Market Open
US
Cleveland-Cliffs
  2.21
  5.69B
10.5B
Before Market Open
UK
InterContinental
  0.2033
  --
9.14B
Before Market Open
US
Gentex
  0.4013
  445.43M
8.72B
Before Market Open
US
Autoliv
  0.8197
  1.89B
8.26B
Before Market Open
US
Boston Beer
  4.26
  531.88M
6.22B
After Market Close
US
Goodyear Tire & Rubber Co
  0.2353
  4.86B
5.36B
--
US
Altra
  0.824
  473.4M
3.63B
Before Market Open
US
Salisbury
  1.5
  11.8M
148.13M
--
Disclaimer: This material is provided as a general marketing communication for information purposes only and does not constitute an independent investment research. Nothing in this communication contains, or should be considered as containing, an investment advice or an investment recommendation or a solicitation for the purpose of buying or selling of any financial instrument. All information provided is gathered from reputable sources and any information containing an indication of past performance is not a guarantee or reliable indicator of future performance. Users acknowledge that any investment in FX and CFDs products is characterized by a certain degree of uncertainty and that any investment of this nature involves a high level of risk for which the users are solely responsible and liable. We assume no liability for any loss arising from any investment made based on the information presented here.