Crypto Report 24/01/2022
Bitcoin
The Bitcoin network has recorded a new all-time high mining difficulty of 26.643 trillion with an average hash rate of 190.71 exahash per second (EH/s) — signaling strong community support despite an ongoing bear market. The Bitcoin network difficulty is determined by the overall computational power, which co-relates to the difficulty in confirming transactions and mining BTC. As evidenced by the blockchain.com data, the network difficulty saw a downfall between May and July 2021 due to various reasons including a blanket ban on crypto mining from China. Meanwhile Russia's recent ban on crypto has drawn criticism from several big names, including Alexei Navalny's chief of staff Leonid Volkov, and Telegram founder Pavel Durov. On Jan. 20, Russia's Central Bank published a report proposing a blanket ban on domestic crypto trading and mining. The report stated that the risks of crypto are "much higher for emerging markets, including Russia."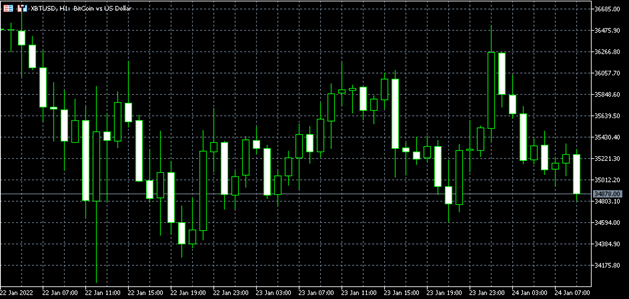 Bitcoin Cash
Bitcoin Cash achieves a low risk analysis based on InvestorsObserver research. The proprietary system gauges how much a coin can be manipulated by analyzing much money it took to shift its price over the last 24-hour period along with analysis of recent changes in volume and market cap. The gauge is between 0 and 100 with lower scores equating to higher risk while higher values represent lower risk. BCH's current risk score means it is a relatively low risk investment. Investors primarily concerned with risk assessment will find this score most useful to avoid risky investments. Bitcoin Cash is 0.11% lower as of the last 24 hours of trading, resulting in its current price of $295.12. The price movement has coincided with volume being below its average level and the coin's market capitalization risen. The market capitalization for the coin now sits at $5,596,396,281.43 while $5,127,539,759.88 worth of the crypto has been exchanged over the past 24 hours. The price movement relative to the changes in volume and market cap recently, gives BCH a low risk assessment. Recent price movement of BCH gives the cryptocurrency a low risk score due to past 24 hours of price volatility in relation to volume changes, giving traders reason to be confident on the coin's manipulability at the moment.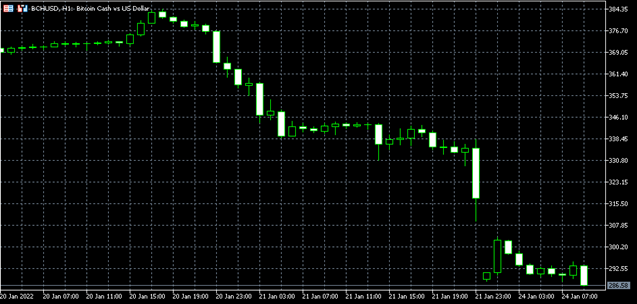 Ethereum
Newly-minted New York City Mayor Eric Adams will be receiving his first paycheck in the form of Ethereum and bitcoin on Friday after it is converted via cryptocurrency platform Coinbase, his office announced Thursday. "New York is the center of the world, and we want it to be the center of cryptocurrency and other financial innovations," Adams said in a statement. "Being on the forefront of such innovation will help us create jobs, improve our economy, and continue to be a magnet for talent from all over the globe. Miami Mayor Francis Suarez was first to respond to a challenge from bitcoin investor and writer Anthony Pompliano, who tweeted, "It is time. Who is going to be the first American politician to accept their salary in bitcoin?"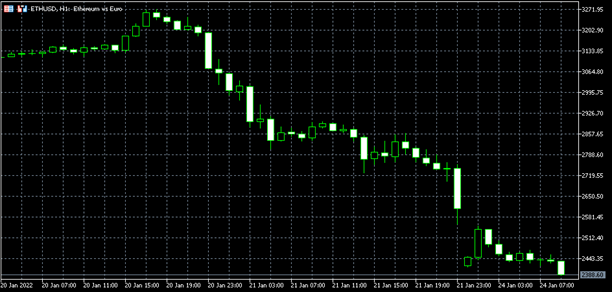 Litecoin
Litecoin was 10% down and recovering for the past 24 hours at the time of this writing. The cryptocurrency is recovering fast and might soon be in the green. There are several factors that will drive Litecoin fast recovery, and one of them is the growing adoption of the coin by businesses. Many e-stores and brick-and-mortar stores have continued to accept LTC as currency for payment. There are also many products coming to the Litecoin network that will increase the token utility. They include Litecoin Gaming, NFT projects, and so on. Therefore, Litecoin is one of the projects that will be making a strong comeback.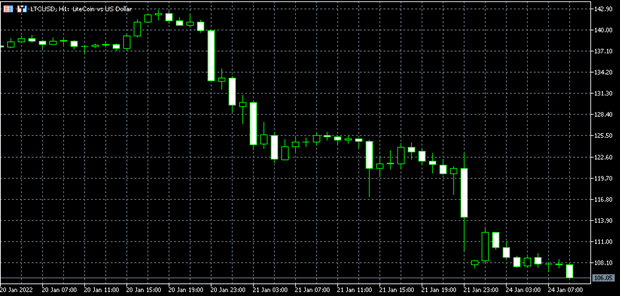 Disclaimer: This material is provided as a general marketing communication for information purposes only and does not constitute an independent investment research. Nothing in this communication contains, or should be considered as containing, an investment advice or an investment recommendation or a solicitation for the purpose of buying or selling of any financial instrument. All information provided is gathered from reputable sources and any information containing an indication of past performance is not a guarantee or reliable indicator of future performance. Users acknowledge that any investment in FX and CFDs products is characterized by a certain degree of uncertainty and that any investment of this nature involves a high level of risk for which the users are solely responsible and liable. We assume no liability for any loss arising from any investment made based on the information presented here.