NFP Announcement & Indices Report 07/01/2022
Non-farm payroll (NFP)
NFP Description
The non-farm payroll (NFP) report is a key economic indicator for the United States. It is intended to represent the total number of paid workers in the U.S. minus farm employees, government employees, private household employees and employees of nonprofit organizations. The release of the NFP generally occurs on the first Friday of every month at 13:30 p.m. (GMT+0).
The non-farm payroll report causes one of the consistently largest rate movements of any news announcement in the forex market. As a result, many analysts, traders, funds, investors, and speculators anticipate the NFP number and the directional movement it will cause.
With so many different parties watching this report and interpreting it, even when the number comes in line with estimates, it can cause large rate swings.
NFP Announcement 07 January 20220
ACTUAL RESULT – 199K
The actual result of the NFP has just been announced and is 201K worse than expected. Since the announcement we have seen the EUR/USD currency pair move an around 30.0 pips, and Gold is now trading at $1783.00 level, which is $5 down from the preannouncement trading level of $1788.67
Below is today's pre announcement forecast:


*Source Investing.com
• In the previous announcement, both the NFP and the average hourly earnings fell short of analysts' expectations except the unemployment rate, which was better than expected.
As a result, USD/JPY briefly jumped but then dropped sharply by over 1000 points! Those traders who opened the short positions with one standard lot just after the release and placed Stop Loss at the previous high of 113.635 could have earned nearly $850. On the other hand, traders who opened a long position of 1 standard lot stood to lose $850.
US JOBS REPORT PRE-RELEASE CHECKLIST – JAN 6TH, 2022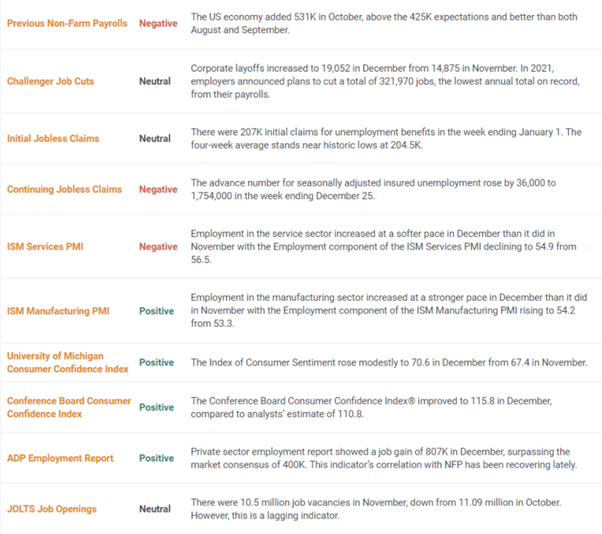 *Source https://www.fxstreet.com/macroeconomics/economic-indicator/nfp
S&P 500
The S&P 500 closed slightly lower Thursday, as a climb in financials and energy was offset by slip in tech ahead of Friday's monthly jobs report.
S&P 500 fell 0.1%, in comparison to the Dow Jones Industrial Average slipped 0.47%, or 170 points.
Tech's intraday recovery was short-lived as the sector ended the day lower, though Meta, formerly known as Facebook , was the notable out performer ending the day up more than 2%.
The NFP can have an impact on individual stocks and that effect is best seen in the indices. The indices movements are the net gain/loss of the stock market as a whole. If the NFP has buyers buying or sellers selling you will see it in the index charts. A strong NFP number can help confirm trends and pinpoint key turning points in bear markets. Likewise, weak or weakening NFP, especially with slowing wages or wage declines, would help confirm bear markets and changes in bull market conditions.
US500

Nasdaq
The Nasdaq Composite slid 0.13% for its seventh negative session in the last eight.
the Nasdaq 100 retreated for the second day in a row, plummeting 3.12% to 15,771 as tech plays endured heavy selling amid rising yields.
US100

DAX 40
Germany stocks were lower after the close on Thursday, as losses the Retail, Technology and Software sectors led shares lower.
At the close in Frankfurt, the DAX fell 1.35%, while the MDAX index fell 1.30%, and the TecDAX index lost 2.06%. The best performers of the session on the DAX were Deutsche Bank AG NA O.N., which rose 2.53% or 0.300 points to trade at 12.150 at the close. Meanwhile, Allianz SE VNA O.N. added 1.50% or 3.25 points to end at 220.00 and Fresenius SE & Co KGAA O.N. was up 1.15% or 0.410 points to 36.000 in late trade.
Germany30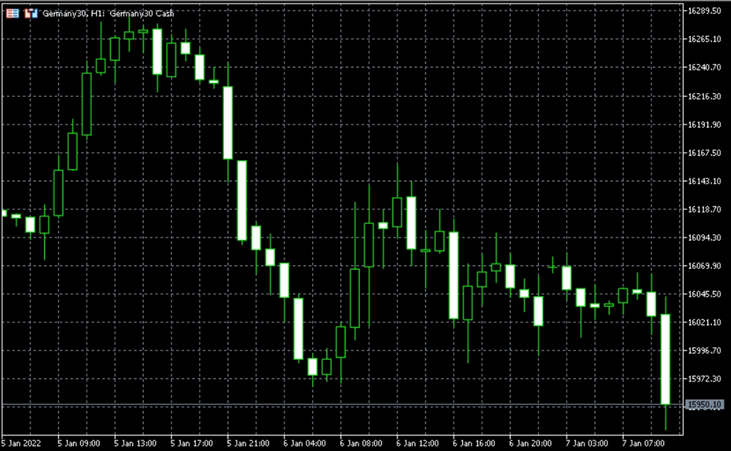 Disclaimer: This material is provided as a general marketing communication for information purposes only and does not constitute an independent investment research. Nothing in this communication contains, or should be considered as containing, an investment advice or an investment recommendation or a solicitation for the purpose of buying or selling of any financial instrument. All information provided is gathered from reputable sources and any information containing an indication of past performance is not a guarantee or reliable indicator of future performance. Users acknowledge that any investment in FX and CFDs products is characterized by a certain degree of uncertainty and that any investment of this nature involves a high level of risk for which the users are solely responsible and liable. We assume no liability for any loss arising from any investment made based on the information presented here.