NDF Report 10/01/2022
What are NDFs?
A non-deliverable forward (NDF) is a cash-settled, and usually short-term, forward contract. The notional amount is never exchanged, hence the name "non-deliverable."
A NDF is usually executed offshore, meaning that one of the currency pairs is outside the home market of the illiquid or untraded currency. For example, if a country's currency is restricted from moving offshore, it won't be possible to settle the transaction in that currency with someone outside the restricted country. However, NDF can be settled by converting any of the potential profits and losses on the contract to a freely traded currency. Any profits orlosses will be received in a freely traded currency such as the US Dollars or some of the other currencies as seen below.
Most of the NDF trading is done with the USD as the base currency, although there are also active markets using the Euro, Japanese Yen and the British Pound.
What are the largest NDF Currencies?
The largest NDF markets are in the Chinese yuan, Indian rupee, South Korean won, New Taiwan dollar, Brazilian real and Russian ruble. The largest segment of NDF trading takes place in London, with active markets also in New York, Singapore and Hong Kong.
USDINR
USD/INR is extending its losing streak into the fourth straight day on Monday, little affected by the broad rebound in the US dollar and surging coronavirus cases in India.
India's active coronavirus cases see the biggest single-day rise since April 23, 2021 rise to highest since June 20 of the same year. Meanwhile, the country detects 410 fresh cases of omicron coronavirus variant, as of Monday. Meanwhile, the US dollar is rebounding after Friday's NFP disappointment-led sell-off vs. its major peers. The cautious market mood also underpins the dollar's safe-haven demand, as the attention turns towards this week's testimony by Fed Chair Jerome Powell and US inflation data.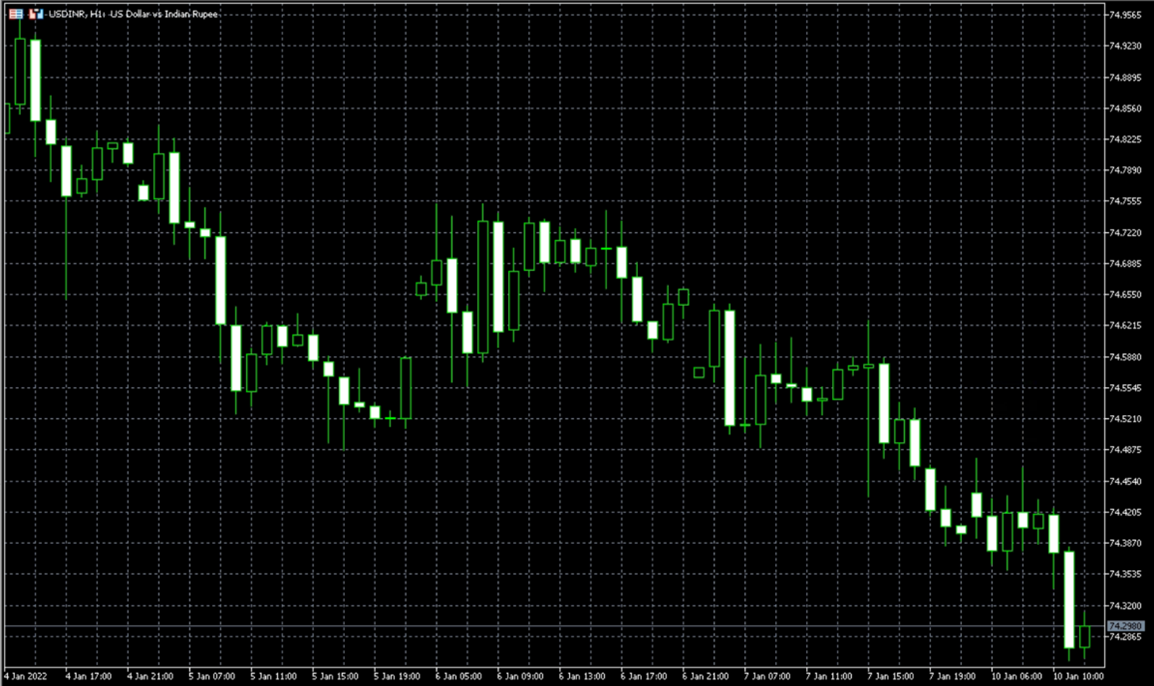 USDIDR
USD/IDR pares intraday losses around $14,350, down 0.13% on a day during early Friday in Europe, as per fxstreet.com. In doing so, the Indonesia rupiah pair drops for the second consecutive day while cheering the broad pullback of the US dollar and Treasury yields, as well as upbeat news from home.
Earlier on Friday, a Senior Minister said on CNBC Indonesia that the emergency is over on the domestic coal supply crunch. It's worth noting that firmer prices of palm oil, Indonesia's key export item, also favor the IDR prices of late.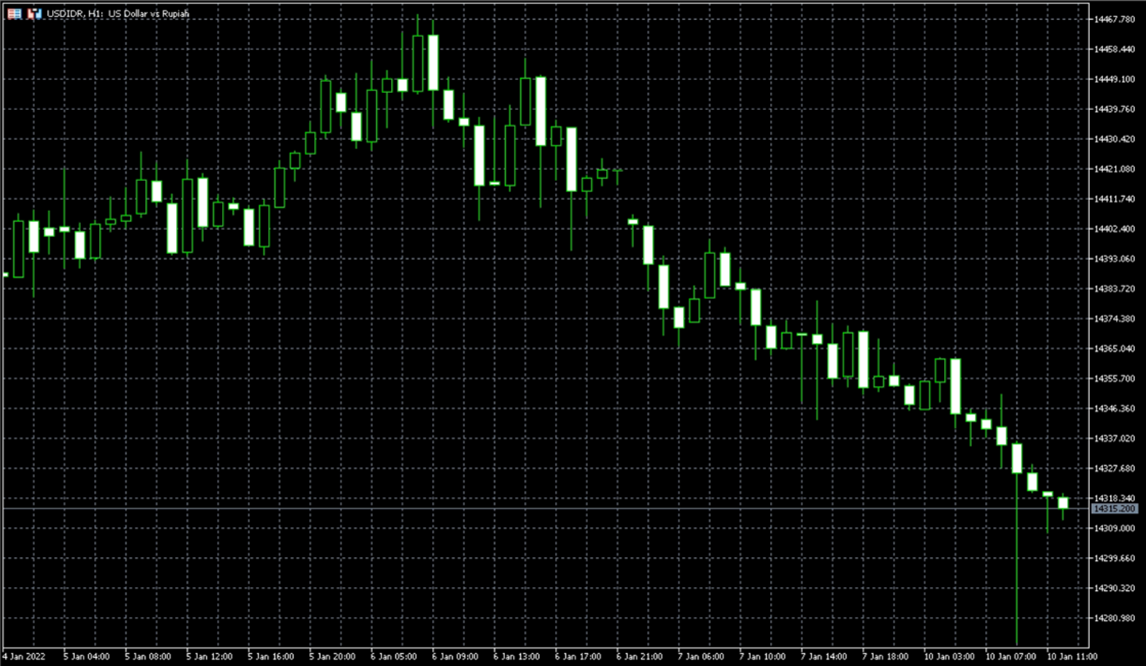 USDKRW
Finally, the Bank of Korea policy decision could get interesting on Friday if USD/KRW continues to hold above 1200.00, or we get a soft-China/firm-US CPI divergence mid-week, which causes another bout of Asian currency weakness.
Asian currencies remain mostly towards the weaker side of their recent range versus the US dollar, the exception being the Indian Rupee which seems to be receiving hot money flows once again as the China outlook darkens. USD/KRW remains above 1200.00. The key directional driver this week will be the US CPI data with high CPI prints lifting Fed hiking expectations and pressuring Asian FX.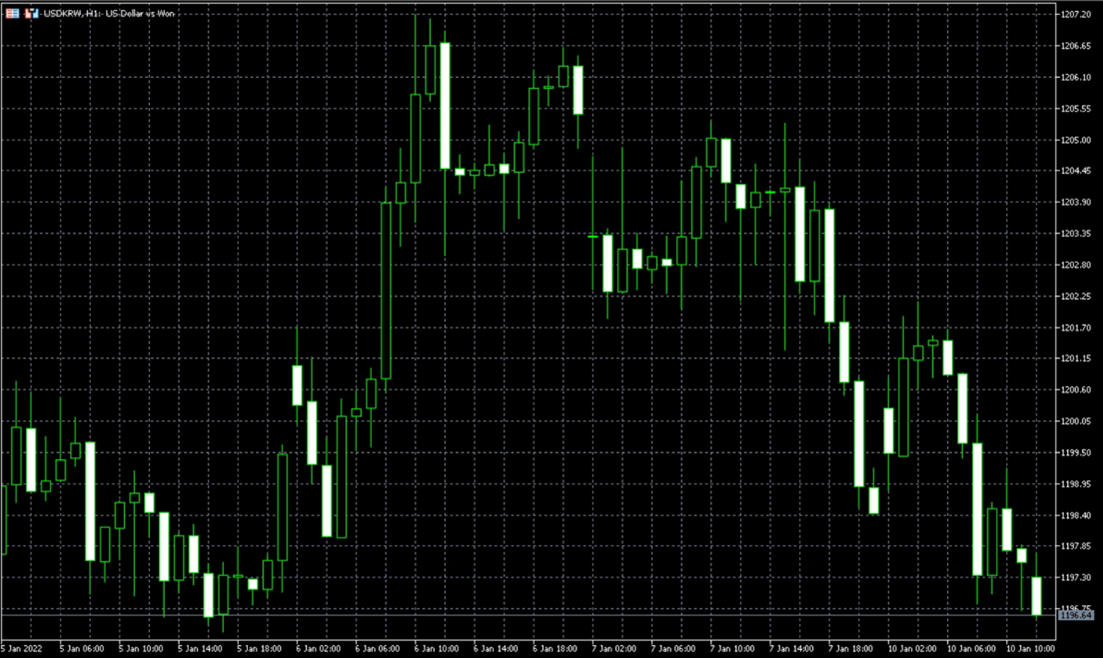 USDBRL
The US dollar has been chipping away at the 5.73 real level over the last several months, and it appears that we are getting ready to have another go at it. The area has been somewhat resistant, but as long as emerging market currencies are going to be less favored, it makes quite a bit of sense that the real will suffer as a result. Furthermore, Brazil has had a rough go with the virus, so that is had a major impact on its economy.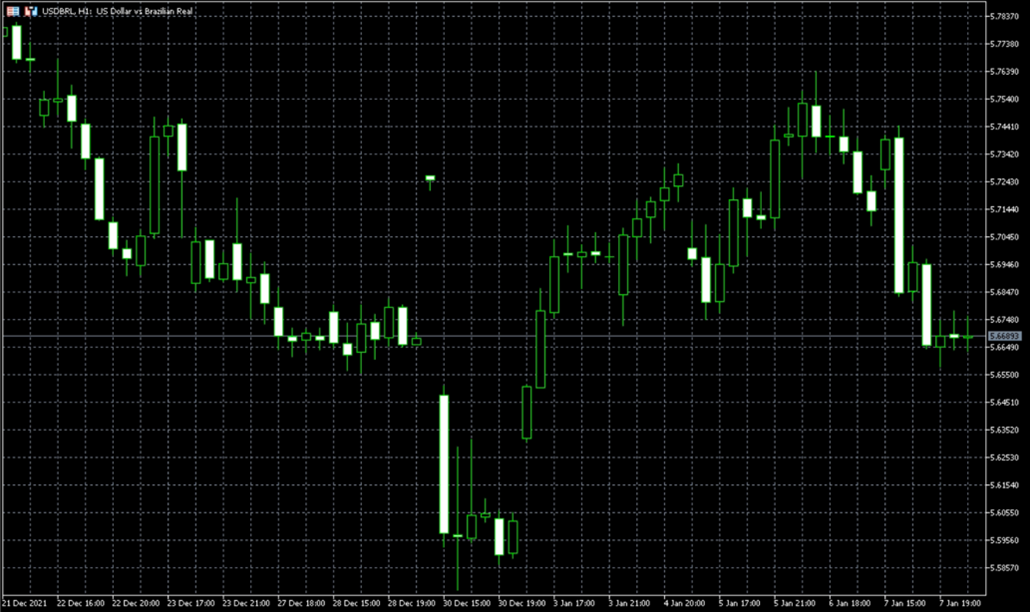 USDCNH
The upside momentum in USD/CNH could push the pair back to the 6.4100 level in the next weeks, according to FX Strategists at UOB Group.
24-hour view: "Last Friday, we highlighted that 'the sharp and rapid rise appears to be running ahead of itself and USD is unlikely to advance much further' and we expected USD to 'trade between 6.3800 and 6.4000'. USD subsequently traded between 6.3786 and 6.3965. The underlying tone has softened somewhat but any weakness is expected to encounter strong support at 6.3730. Resistance is at 6.3870 followed by 6.3920."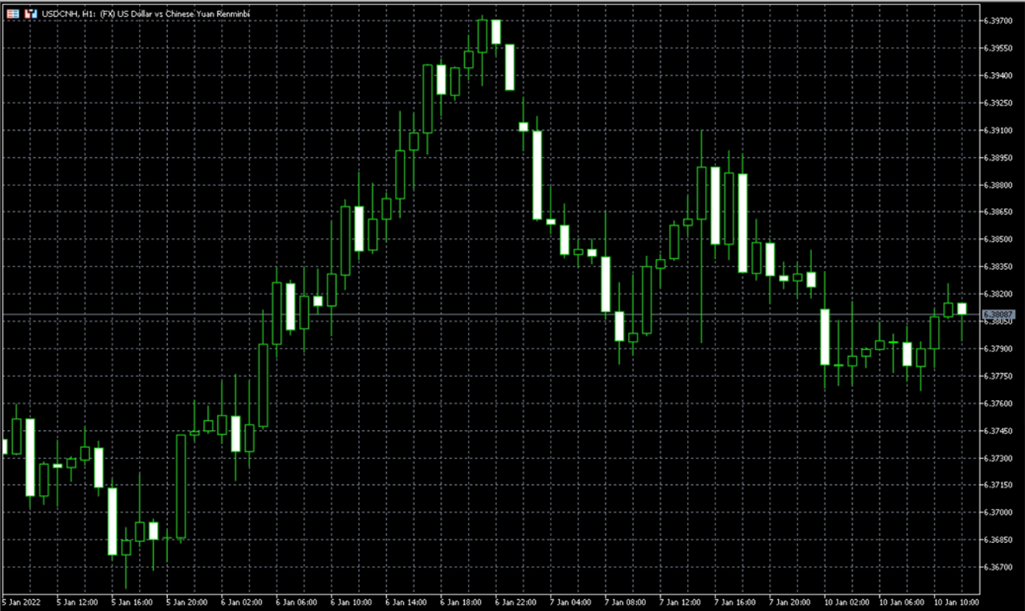 Disclaimer: This material is provided as a general marketing communication for information purposes only and does not constitute an independent investment research. Nothing in this communication contains, or should be considered as containing, an investment advice or an investment recommendation or a solicitation for the purpose of buying or selling of any financial instrument. All information provided is gathered from reputable sources and any information containing an indication of past performance is not a guarantee or reliable indicator of future performance. Users acknowledge that any investment in FX and CFDs products is characterized by a certain degree of uncertainty and that any investment of this nature involves a high level of risk for which the users are solely responsible and liable. We assume no liability for any loss arising from any investment made based on the information presented here.